COURSE DETAILS
A Classic Golf Course That Provides a Country Club Experience—For Every Golfer.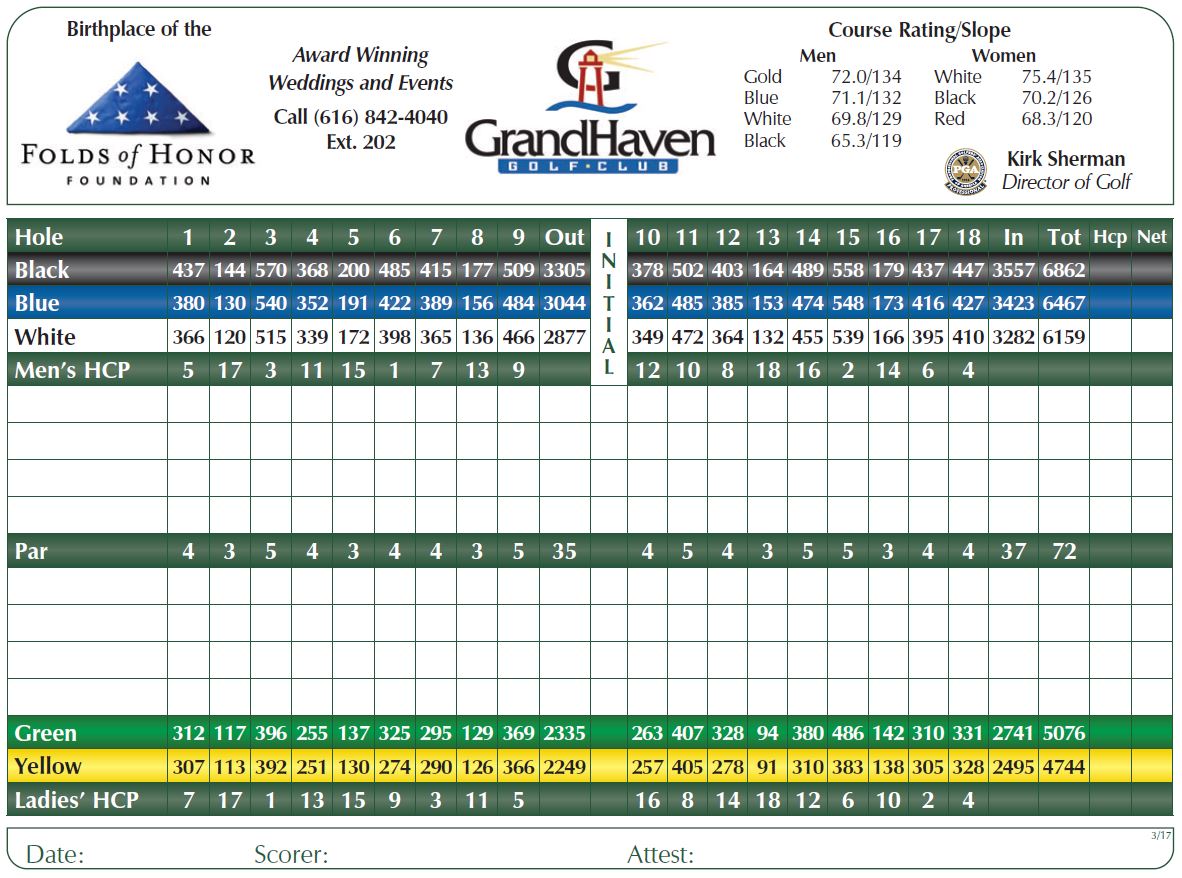 Sandy soil means that Grand Haven is playable almost immediately after rain—it also means better conditioning and course conditions.
The foundation of the golf course at Grand Haven is a sandy and modestly undulating piece of property just 100 yards from Lake Michigan. Today, due to various regulations, it would be virtually impossible to build a golf course in Michigan on this type of land. Architect Bruce Matthews took this tremendous canvas and created a golf course that has everything and is known as the "Pine Valley of Michigan". • Routinely excellent conditioning • Tree-lined fairways • Lake breezes • Just the right amount of undulation. The result? A golf course that is so much fun to play and so visually stunning that it routinely attracts golfers from all over the United States.
New Irrigation System Means Great Conditioning As part of a major reconditioning program, the staff at Grand Haven recently installed a completely new 'double row' irrigation system; we can now, when needed, water 'wall to wall' in order to maintain excellent playing conditions throughout the season. New Tee Boxes To challenge today's big hitting 'flat belly', Grand Haven added several new sets of tees adding more than 450 yards to the golf course. There are numerous new tee boxes—and not just for the big hitter; there are several new ladies' tees as well.
It's easy to see why Grand Haven Golf Club has been ranked in the Top 75 in the nation.
…a great challenge and a fun place to play all rolled into one.
Take a Tour of Grand Haven Golf Club. All yardages from the back tees.
#1—Par 4—437 Yards. Those thinking that Grand Haven might offer an easy opener should think again. Right off the bat, Bruce Matthews provides a hole where par is an excellent score. The tee shot needs to be accurate; the second shot plays to an undulating green that Matthews carved into a hillside.
#2—Par 3—144 Yards. This elevated tee shot is beautiful. This large green is surrounded by the Dunes of Lake Michigan. Getting on the green is a prerequisite if you are hoping for a par. #3—Par 5—570 Yards. A gently undulating dogleg with a tee shot through a chute of tall pine trees. Reaching the green in one piece and in three shots is a remarkable achievement. However, the undulating green makes two putting a similar achievement. #4—Par 4—368 Yards. A birdie opportunity but one that requires some insider knowledge. The fairway looks wider than it plays. An extra club on the approach is vital as nine out of ten shots end up short. #5—Par 3—200 Yards. One of Grand Haven's superb par-3s plays downhill from a ridge to a large green. However, the tee shot must avoid water short and left. Take the right club and find the correct part of the green and a two is possible. #6—Par 4—455 Yards. The key to this hole is hitting the narrow ridge off the tee. From here, the optimum shot plays to a natural green site nestled in a grove of tall pines. #7—Par 4—415 Yards. The tee shot must avoid the natural sand dunes that flank the left and right of the fairway. The green slopes severely from back to front. #8—Par 3—177 Yards. Perhaps the most visually appealing of the par-3s at Grand Haven, the hole features a deep valley between tee and green. Trouble lurks on all sides of the green complex. #9—Par 5—509 Yards. The player who can hit a right to left shot off the tee followed by a left to right shot from the fairway, may be able to reach this tough green in two and work towards a birdie. Mere mortals should play sensibly and leave a wedge or short iron to the green. The front nine begins with an obviously difficult hole and ends with an subtly demanding hole. #10—Par 4—378 Yards. A beautiful tee shot played to a saddle nestled between pines. The short second shot requires a precise strike to a large and undulating green. #11-Par 5—502 Yards. A long tee shot down the left side of the fairway sets up a fairway wood to the green; however the second shot must avoid a stand of tall trees that guards the right side of the green. Not the longest par-5 in the world but not the easiest either. #12—Par 4—391 Yards. Tall pines on either side of the fairway provide the visual definition and the green provides the challenge here—with bunkers on either side of the fairway. #13--Par 3--164 Yards. "The Dunes" This is truly one of the best par 3's you'll ever play. This downhill par 3 play over a large area of Michigan dune to an undulating green. Take your 3 and run. #14—Par 5—489Yards. One of the easier Par 5's on the course. This is a great opportunity for birdie. But watch out, hit it into the CCC pines and your score could end up much higher. #15—Par 5—558 Yards. An uphill hole through pines, native grasses and natural sand dunes. The green is the highest point on the course and provides excellent views. Got par? Run to the bank! #16—Par 3—179 Yards. Plays from an elevated tee over a shallow valley. #17—Par 4—437 Yards. The tee shot plays through a chute to a fairway that parallels a steep incline. The long second plays over water to a green nestled against a large mound. #18—Par 4—447 Yards. A serious hole that befits Grand Haven's stature as one of the finest courses in a state that's well-known for some of America's finest courses. The 18th at Grand Haven dog-legs to the right. The second shot requires a long and precise strike. A par almost always wins the game.